The North America Family Business Report 2023 Reveals Family Businesses At Risk Due to Communication Issues and Lack of Succession Planning Amid Fears of a Market Downturn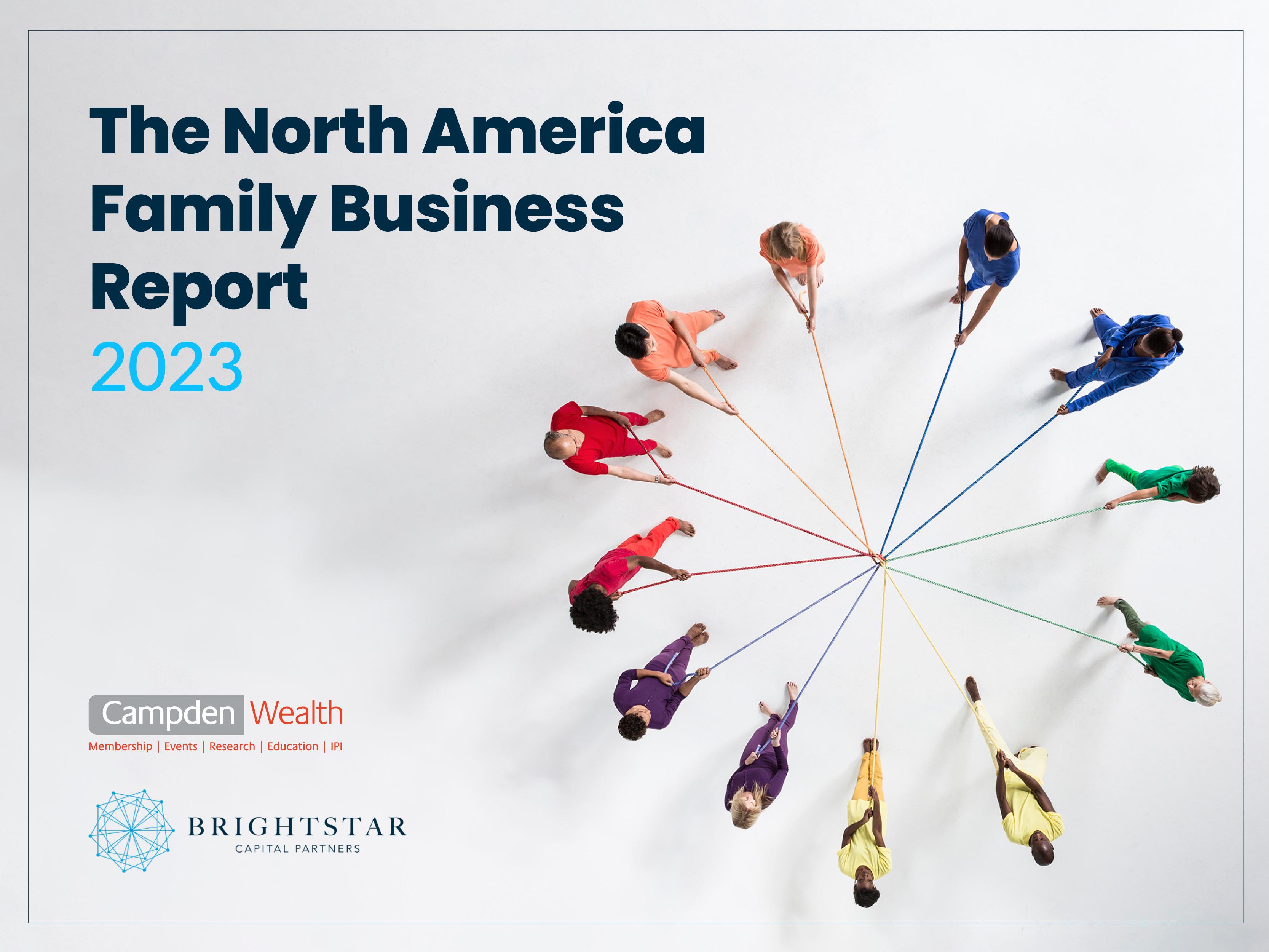 Press release
The North America Family Business Report 2023 Reveals Family Businesses At Risk Due to Communication Issues and Lack of Succession Planning Amid Fears of a Market Downturn
Key Findings: 
● The 2023 North America Family Business Report from Brightstar Capital Partners and Campden Wealth reveals that a majority of family businesses (61%) do not have a written, formal succession plan in place 
● A majority of respondents (60%) are worried about a market downturn, with higher inflation and rising interest rates being particularly concerning for 75% of respondents. 
● When Next Gens are involved, their overarching goal is to protect and sustain the family business, according to 81% of respondents 
● Six in 10 family businesses surveyed (62%) believe that the current economic environment poses the most significant systemic risk to their operations over the next 12 months 
● A vast majority of respondents (84%) declare that their family business is embracing new technology, with 49% of respondents believing artificial intelligence will be most impactful
NEW YORK, NY, May 2, 2023 – Brightstar Capital Partners and Campden Wealth today issued the North America Family Business Report 2023, highlighting opportunities and challenges currently facing family businesses. The report surveyed more than 100 family businesses with average annual revenue of more than $340 million. Among the major concerns for family businesses owners and executives are succession planning, risks of the current economic environment, family conflict and communication, technology investment, risk management, governance, cybersecurity, and ownership structure. 
The full report can be found at the following link: https://brightstarcp.com/family-business-report/ 
A lack of succession planning and communication issues plague family businesses 
• Focusing on succession planning this year, the report highlights that families surveyed worry about future leadership, but few have acted decisively. Despite the urgency of ensuring an orderly leadership transition, the study reveals that the topic of succession is often avoided or not prioritized because family members feel uncomfortable discussing sensitive issues (according to 29% of respondents). 
Falling behind the succession curve 
● North American family enterprises are undergoing a major wave of succession, but few are prepared. A majority of family businesses surveyed (61%) do not have a written, formal succession plan in place, emphasizing the lack of preparedness when handing over control to the next generation. Forty-four percent still need to develop a succession plan or have no plan at all, while 16% rely on informal plans. Among the most common challenges related to succession are discomfort in discussing sensitive topics (29%) and the lack of willing / sufficiently qualified Next Gens to take over the reins (22%). Another 21% believe the family has not invested enough time into succession planning. 
Regular communication is key to resolve family conflict 
• Only 23% of family businesses surveyed rely on external support when facing family disputes, but nearly half have experienced family conflict. Family conflict most likely arises from topics related to roles and responsibilities of family members, succession planning, and the patriarch / matriarch unwilling to relinquish control (according to 41%, 27%, and 19% of respondents, respectively). 
Families want to maintain ownership in the business 
• Reflecting a desire to retain full control over company assets, the majority of family businesses surveyed are fully owned by family members (75%). Looking to preserve their current ownership structure, nearly all (91%) say that there are no plans to sell stakes in the family business. A small proportion of those surveyed (9%) are interested in selling parts of the business, of which 6% would want to reduce the family's stake but retain significant interest. 
Family businesses are preparing for slower near-term economic growth 
• Family businesses believe growth will slow in the next 12 months. Having enjoyed a solid average revenue growth rate of 12% over the last 12 months, respondents now expect a 3% decline, down to an average of 9%. Higher inflation and rising interest rates particularly concern 75% of respondents. 
The future of the family business, Next Gens and digital transformation 
• Motivated by a deep sense of responsibility, Next Gens' goal when joining the family enterprise is to protect and sustain the business (according to 81% of respondents). Showing a drive to innovate, Next Gens also want to embrace digital transformation and increase the use of technology (according to 24% and 23% of respondents, respectively). 
A vast majority of family businesses are embracing new technology 
• More than eight in ten respondents (84%) say that their family business embraces new technology, emphasizing that family businesses can adapt to and evolve with innovation. When asked which technology will most likely transform the business in the next five to 10 years, 49% of respondents believe artificial intelligence will be most impactful. 
Dr Anne Henow, Associate Director of Research at Campden Wealth, noted: 
"While still navigating the post-pandemic recovery, family businesses now brace themselves for a period of higher inflation and slower economic growth. Our research suggests that these businesses are well-prepared for this environment, due to conservative financial positions, a long-term outlook, and a willingness to embrace new technology."
Andrew Weinberg, Founder and CEO of Brightstar Capital Partners, commented: 
"Despite the unprecedented upcoming transfer of control from one generation to the next, the majority of family businesses are still inadequately prepared for succession. This study shows that starting early with succession planning is key, as are setting up regular communication channels with family members and having a board of directors. The findings suggest that family business owners want to balance business and family dynamics with well-functioning governance institutions." 
Adam Ratner, Director of Research at Campden Wealth adds: 
"Our findings indicate that family businesses need to prioritize succession planning and effective communication to mitigate risks and thrive in a challenging economic environment. These businesses must also embrace digital transformation and invest in new technologies to increase efficiency and profitability. By taking these steps, family businesses can ensure that they are well-prepared for future growth and success."
About Brightstar Capital Partners 
Brightstar Capital Partners is a middle market private equity firm focused on investing in closely held family, founder, or entrepreneur-owned businesses where Brightstar believes it can drive significant value with respect to the management, operations, and strategic direction of the business. Brightstar employs an operationally intensive "Us & Us" approach that leverages its extensive experience and relationship network to help companies reach their full potential. For more information, please visit www.brightstarcp.com. 
About Campden Wealth 
Campden Wealth is a family-owned, global membership organization providing education, connectivity, research, and networking opportunities to families of significant wealth, supporting their critical decisions, helping to achieve enduring success for their enterprises and family offices, and preserving their family legacy. Campden Research supplies market insight on key sector issues for its client community and their advisers and suppliers. Through in-depth studies and comprehensive methodologies, Campden Research provides unique proprietary data and analysis based on primary sources.
MEDIA CONTACT: 
Brightstar Capital Partners 
Craig Thomas 
Chief Marketing Officer 
Campden Wealth 
Dr. Anne Henow 
Associate Director of Research 
Glen Ferris 
Editorial Director