Majority of global UHNW sustainable investors feel responsibility to invest to make the world a better place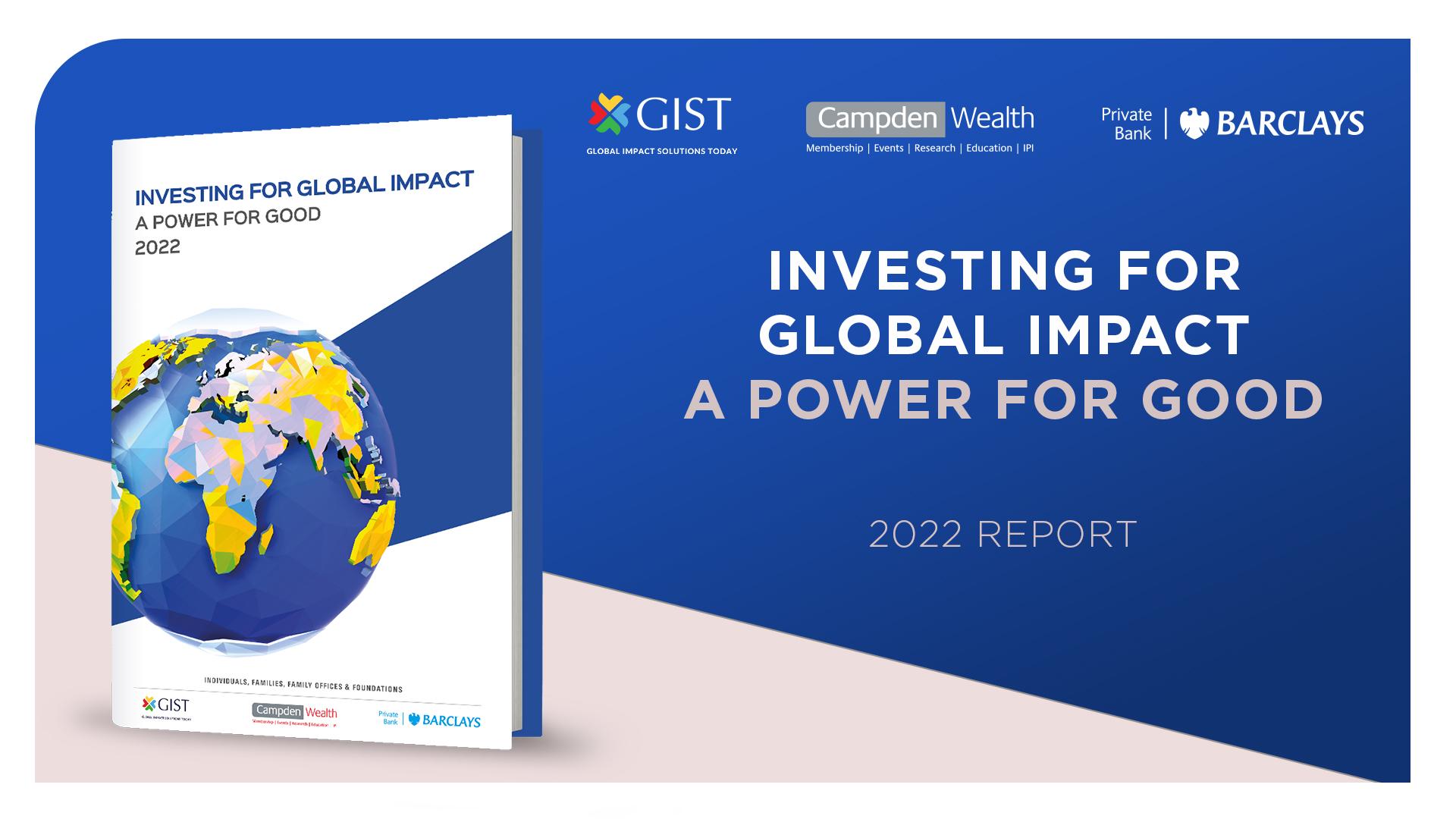 Press release
Majority of global UHNW sustainable investors feel responsibility to invest to make the world a better place
•    For 77 per cent of global wealth holders, their primary motivation for engaging in impact investing is the responsibility to make the world a better place. 
•    Over half (53 per cent) believe impact investing forges a bridge between the older and younger generations. 
•    80 per cent believe investors do not have to give up returns to invest sustainably, and 39 per cent are motivated to incorporate sustainable considerations for better returns and reduced risk. 
A new research report produced on behalf of Global Impact Solutions Today (GIST) and Barclays Private Bank by Campden Wealth reveals the three key drivers for global wealth holders engaging in sustainable investing are: a sense of responsibility, the benefits it brings to family relationships, and the potential financial benefits.   
The 2022 edition of Investing for Global Impact: A Power for Good, now in its ninth year, provides unique insight into the attitudes and actions of the world's wealthiest individuals, families, family offices, and their foundations when it comes to generating positive impact with their capital.   
Private wealth holders want to play their role to address key global challenges  
For these private wealth holders, the biggest driver for involvement is a sense of responsibility: over three quarters (77 per cent) of respondents are motivated by a responsibility to leave the world a better place. For just over a third (36 per cent), they want to demonstrate that family wealth can be invested for positive outcomes – a 13 per cent increase on 2021's results.   
Regarding one of the largest global challenges, 84 per cent believe their private capital will be essential in addressing climate change. Nearly two-thirds (59 per cent) say they would like their family portfolio to be aligned with, at minimum, a 2° C scenario of the Paris Agreement. Going further, 61 per cent would be willing to sacrifice some financial returns if their investments helped to prevent climate breakdown.  
Sustainability provides a unifying force ahead of intergenerational wealth transfer  
When it comes to family connections, over half (53 per cent) of global wealth holders believe sustainable investing is creating a bridge between the older and younger generations, highlighting the unifying aspect of adopting impact investing for a family's portfolio. Just 11 per cent of respondents disagree.   
While 68 per cent agree younger generations are continuing to take the lead around impact investing, older generations are increasingly accepting this new approach. Nearly seven in ten (69 per cent) report that sustainable investing is being embraced by the generation in charge of the family's wealth.  
This is reinforced by the view that 80 per cent believe involving the next generation in sustainable investing will prepare them to take on greater family responsibility, with nearly half (44 per cent) strongly agreeing.   
Families see financial rewards alongside societal benefit for investing sustainably  
While their primary motivation is a sense of responsibility to make the world a better place, their second impetus is belief that incorporating sustainability criteria into their investments will lead to better returns and reduced risk (39 per cent).   
Overall, 80 per cent believe that returns do not always have to be sacrificed to invest in impact. Over half (51 per cent) believe it is possible to choose to target lower financial returns, or take on greater risk, but not have to give up returns for impact, and 29 per cent believe there is no trade-off between financial returns and impact.  
Looking ahead five years, respondents expect impact investments to either outperform (37 per cent) or perform at the same level (44 per cent) as traditional investments. This supports their expectations that average portfolio allocation will be 50 per cent five years from now, with around four in ten (37 per cent) expecting to have 80-100% of their portfolio invested sustainably.  
Damian Payiatakis, Head of Sustainable and Impact Investing, Barclays Private Bank:  
"Sustainable and impact investors are on the leading edge of what is becoming the new normal for investing. These global wealth holders have realised their capital makes an impact on the world. Accordingly, they want their portfolio to be lucrative and to be personally meaningful. The mindset shifts I'm seeing is to invest not only for tomorrow, but to influence it.   
And at this pivotal moment, their investments have become a means to play their part to create a more just and sustainable world. The challenge now is helping more individuals, families, and family offices to move from awareness to action."  
Gamil de Chadarevian, Founder, Global Impact Solutions Today (GIST)  
"To create a more sustainable future for our planet and people we need a big leap forward. Our amazing case studies make it quite clear - families with optimism, determination and confidence are leading this systemic and holistic change.   
Life is offering several inspiring opportunities for the planet and people in defiance of an uncertain and challenging environment. We need more family offices and new generation to join this movement because we get the future we invest in."  
Dr. Rebecca Gooch, Senior Director of Research at Campden Wealth:  
"Wealth holders and their family offices are adopting sustainable investing at a rapid pace. While the next generation initially led the charge into sustainable investing, a bridge is now being created between current and future generations, as the desire to combat longstanding social and environmental issues intensifies.   
This is enabling the landscape to grow rapidly, and investors are now reaping the benefits of both the social and economic returns sustainable investments can provide. This is leading even traditional investors to see that integrating ESG factors into investment decisions is simply good business practice."  
About the report:  
Investing for Global Impact: A Power for Good, now in its ninth year, provides unique insight into the attitudes and actions of the world's wealthiest individuals, families, family offices, and their foundations when it comes to generating positive impact with their capital.   
As a leading global benchmark for those interested in impact investing and philanthropy, data for this study was collected from nearly 150 respondents from 35 countries, with an average of USD $730 million assets under management.   
Six case studies with prominent investors and philanthropists also feature in the report showcasing leading example of how individuals and families can use their investing and philanthropy as a force for good.   
END
For further comments and interviews, please contact:  
Campden Wealth 
Dr. Rebecca Gooch, rebeccagooch@campdenwealth.com / +44 7771 917076  
Global Impact Solutions Today 
Samir de Chadarevian, samir@gistltd.com / +41 77 405 65 64  
Barclays Private Bank  
Melanie Hunt, melanie.hunt@barclays.com  / +44 7385 364641  
About:  
Campden Wealth  
Campden Wealth is a family-owned, global membership organisation providing education, research, and networking opportunities to families of significant wealth, supporting their critical decisions, helping to achieve enduring success for their enterprises and family offices, and supporting the preservation of the family legacy. 
The Campden Club is a private, qualified, invitation-only Members Club representing 1,400 multigenerational business owning families and family offices across 39 countries. The Club provides peer networking on a global scale, bespoke connectivity around aligned objectives, shared knowledge and best practices, co-investment opportunities with qualified liquid investors, and support for the next generation. Campden Club Members also enjoy privileged access to generational education programmes held in collaboration with leading global universities.   
Campden Research supplies market insight on key sector issues for its client community and their advisors / suppliers. Through in-depth studies and comprehensive methodologies, Campden Research provides unique proprietary data and analysis based on primary sources.   
Campden Education delivers a virtual training platform empowering families with practical knowledge and the tools to make informed decisions. Drawing on deep expertise and real-world experiences, our programs are designed to guide the whole family through all stages of ownership and growth.  
Campden Wealth owns the Institute for Private Investors (IPI), the pre-eminent membership network for private investors in the United States, founded in 1991. In 2015, Campden further enhanced its international reach with the establishment of Campden Family Connect PVT. Ltd., a joint venture with the Patni family in Mumbai.  
GIST INITIATIVES Ltd. – Global Impact Solutions Today  
GIST is a thought-leader; we bridge the gap between social & business, ideas & practice, and donors & grantees. We work with organisations to adapt business models and philanthropic approaches, to introduce and integrate new perspectives of social impact and to deliver advisory services. We define sustainability and impact as a transformational, innovative, and holistic business model, presently the most sophisticated, that provides a competitive edge, delivers healthy financial returns and mitigates future risks – a force for good.  
Philanthropy and impact investing suggest and imply different things to different people. As a think tank on this subject, we explore how family offices, foundations and organisations approach impact investing and philanthropy trends. GIST is the Founding Partner & Lead Sponsor of the annual Report "Investing for Global Impact – A Power for Good", a leading knowledge platform to broaden understanding, identify trends, and provide a unique peer-to-peer benchmark for individuals, families, family offices, and foundations.  
GIST and its network support endeavours and charitable initiatives that have potential for long-term, holistic, sustainable impact. At GIST we strictly follow ethical principles. We do not compromise our values, strong purpose, integrity, and credibility.  
Barclays Private Bank  
Barclays Private Bank provides comprehensive specialist investment, banking, lending and wealth advisory solutions to the world's most influential people and their families in the primary global wealth hubs and corridors.  
With 330 years of experience, we surround clients with a team of trusted advisers and specialists who draw on the expertise they need to connect clients to insights and opportunities from across the Barclays Group. Based on our deep understanding of them, their families and businesses, we tailor opportunities to support our clients' unique ambitions enabling them to invest in the future, and influence tomorrow with confidence.